Prices may change without notice, and deals may only be available in select regions, so please verify before downloading.
Hit the easy button: Take me straight to Amazon!
FREE BOOK
Try, by Ella Frank
Try – verb: to make an attempt or effort to do something or in this case…someone.

Sex. Logan Mitchell loves it, and ever since he realized his raw sexual appeal at a young age, he has had no problem using it to his advantage. Men and women alike fall into his bed—after all, Logan is not one to discriminate. He lives by one motto—if something interests you, why not just take a chance and try?

And he wants to try Tate Morrison.

Just coming out of a four-year marriage with an ex-wife from hell, a relationship is the last thing on Tate's mind. He's starting fresh and trying to get back on his feet with a new job at an upscale bar in downtown Chicago.

The only problem is, Tate has caught the unwavering and unwelcome attention of Mr. Logan Mitchell – a regular at the bar and a man who always gets what he wants.

Night after night Tate fends off the persistent advances of the undeniably charismatic man, but after an explosive moment in the bar, all bets are off as he finds his body stirring with a different desire than his mind.

As arrogance, stubbornness and sexual tension sizzles between the two, it threatens to change the very course of their lives.

Logan doesn't do relationships. Tate doesn't do men. But what would happen if they both just gave in and…tried?
NEW RELEASE, Available Everywhere
Anthony, by Gabbi Grey
Anthony

During my seven years as a social worker in Gaynor Beach, California, delivering orphaned twins to their unsuspecting father is the biggest challenge I've ever faced. These babies lost their mother and they need a loving parent, but is adorable Scott Wexler up to that challenge? Transferring custody is one thing—walking away is something entirely different, especially with the stress of Christmas bearing down on Scott too.

Scott

After escaping a miserable childhood, I've made a fresh start in California. I'm in charge at the Gaynor Beach Public Library, I love helping people, and I'm feeling like an actual functional human being. Then social worker Anthony Rodrigues shows up on my doorstep with twins I fathered through a sperm donation, and suddenly I'm responsible for two tiny lives. Accepting help from the gorgeous social worker is a no brainer—admitting I want him to stay is going to take a lot more courage.

This 74k word gay romance is a slow burn, mid-angst, instalove with a geeky librarian, a by-the-book social worker, adorable twin-toddler terrors, and a beleaguered cat named Crumpy.
NEW RELEASE, Kindle Unlimited
Oberon, by Macy Blake
Santa Paws is coming to town.
When Dr. Miles Lane purchases Paws and Claus, a veterinary clinic in the quirky town of Mistletoe Falls, he doesn't quite know what he's in for.
The small town offers a fresh start for Miles, his seven year old daughter, Holly, and their rambunctious Saint Bernard. What Miles doesn't count on is his immediate attraction to the local handyman, Oberon, who he hires to do some work on their new home and clinic.
Oberon finds himself falling hard for the town's new vet and his adorable family. There's only one problem: Oberon is a sprite, a magical being tasked with bringing holiday spirit to the human realm. Every time he's around Miles and Holly, his chemis-tree goes a bit haywire.
But when a pet-tastrophe strikes Mistletoe Falls, Miles and Oberon must team up to make sure the town and all of it's furry residents have the ulti-mutt holiday.
If you love fated mates, pets who like to play matchmaker, and magical elves, er, sprites, who make the season bright, you'll have a pawsitively wonderful Christmas time with this holiday romance.
PREORDER, December 15 release
Blue, by Jae Greyn
Blue Wheeler is afraid of being forgotten. Dorian Channing is scared of being different. Their first meeting sparks a friendship that becomes an unbreakable bond, even when the King of The Prides tries to tear them apart.

One lie threatens their entire world and unleashes secrets that should remain hidden.

Will the lie cage them forever, or will the magic set them free?

We find what you left behind.
All blood bleeds red, but it does not always bleed magic.
-The Hand-Me-Down Boys
NEW RELEASE, Kindle Unlimited
A Winter Crush, by Gigi Rivers
An MM fantasy winter holiday novella.

A mountain nymph with a crush. A man scared to have his heart broken.

Ori's world stopped the moment he saw the human at his pottery wheel. He didn't know why. The man was older than Ori. And much larger. In fact, he was the complete opposite to Ori. Nonetheless, Ori knew that he wanted the man's dark eyes focused on him.

Wareth's life is as he wants it. Sure, some say he's lonely, grumpy, and unwilling to open himself up. But Wareth knows the truth. If you make yourself vulnerable, you'll get your heart broken.

When an eager, young mountain nymph turns up and looks at Wareth in ways he shouldn't, it stirs something deep inside him. But is Wareth willing to take a chance? Or will Ori's crush remain unrequited?
NEW AUDIO, Kindle Unlimited
Dealing in Death, by L.J. Hayward, narrated by Rowan Scott
Ethan Blade—assassin extraordinaire, cold-blooded killer, heartless monster, and . . . retiree?
I've spent my whole life dealing in death, efficiently eliminating targets while fighting to preserve a sense of self and morality, to avoid becoming as detached and ruthless as my siblings. I thought I had succeeded. Then I met Jack Reardon—contrary, handsome, forgiving, and far too good for the likes of me—and my life was tipped upside down. When he asked me to move in with him, he didn't specify that I had to quit my job, but I wanted to—for myself, not for him. I should have known it wouldn't be that easy.
My old instincts—"Ethan Blade"—are soon tempted out of retirement by a job offer I can't afford to refuse and by an old hook-up of Jack's he'd be a fool to refuse. While falling prey to my own temptation, Jack struggles with his. Which is precisely when the true danger exposes itself—one of my siblings with no such sense of self or morality. Only pain. And he is prepared to rain it down on me and Jack, unless I can square the Ethan Blade I want to be with the one I need to be, in time to save us both.
NEW RELEASE, Kindle Unlimited
My December Daddy, by Leta Blake
Matthew Angel is stuck. He's spent his life denying who he is and what he truly wants—until he stumbles upon a unique offering at a specialty charity auction:

A Christmas Daddy experience.

Erik Garner has given up on relationships. After his last boy left, he decided it's better to skip the heartache and stick with casual, short-term contracts. His offer of an exclusive, one-night-only Christmas encounter is all he's willing to give.

Matthew's older than expected, but his shy smile and eager surrender charm Erik. What starts out as a business transaction quickly gives way to a wild, thrilling intensity neither expected.

One night isn't enough.

Good thing there's a blizzard on the way…
99c SALE, Kindle Unlimited
Desiring Romero, by Raquel Riley
With everything on the line, will Romero walk away from his dreams for the sake of love?
After Maxwell Denton suffered a career ending injury, he was forced to surrender his dream of competing in MMA. He had zero interest in training the new guy, but after going one round with Romero Ruiz, Max knew he'd met his match.
Having never been attracted to men, Max and Romero are caught off guard by their explosive chemistry. Their mutual desire burns hotter with each passing day as they navigate the meaning of their newfound passion.
Max is willing to risk his heart by walking away from Romero to give him a shot at his dream. But Romero can only choose one title. Welterweight Champion or Max's lover. Which does he covet most?
Desiring Romero is an MM contemporary sports romance featuring bisexual awakenings, first times, some laugh-out-loud awkward sexy adventures, and a trip to Disney World. Also included is a sweet MF romance between an inexperienced student and his teacher, a single-mom to the cutest little boy. Both stories have an HEA and no triggers.
NEW RELEASE, Kindle Unlimited
Cowboy Healing, by BA Tortuga
Patrick Kelly needs some help. His husband passed away a while ago, and now he has a thriving medical practice, two busy kids, and one ranch outside Aspen, Colorado that he's not really sure how to run. Patrick doesn't want to give up on any part of his life, but he knows he can't do it all alone, so he turns to a service to hire a cowboy to help run the ranch and free up some of his time.
Caleb Warren wants his family ranch back. So he hires on to work as the foreman there through the Cowboy Wanted service, just waiting for the fancy doctor who owns the place to get tired of roughing it and sell out. The problem is, Patrick's kids love the country life, Patrick is a good man, and Caleb can't quite get past the guilt he feels about being on the road with the rodeo when his family had some real troubles to deal with.
The two of them find more common ground than they expect, and between everything from animals to parent teacher meetings, Caleb lends and hand and Patrick learns to lean on Caleb for help. Can the two of them give up the past and embrace the future together?
NEW RELEASE, Kindle Unlimited
Help Me Remember, by Romeo Alexander
What would you do if you woke up injured and didn't know who you were?

Well, that's precisely what's happened to me.

A hot stranger with white-blond hair and bright blue eyes says his name is Eric and claims mine is Dylan. Apparently, he was my best friend. Running into Eric felt weird, but so was waking up in an abandoned building, not knowing who I was. I'd fallen through the ceiling, and I'd been shot! I don't remember anything else, but at least Eric wants to help me, and the chemistry between us is undeniable…I think.

It doesn't take long to find out I'm not the man Eric remembers. There are things about me, things I can do, that don't fit with the man he knew before. Worse yet, I have an ugly past, and it's coming back bit by bit to bite me. Why are the Russian Mafia and the cops after me? I have no idea what kind of man I used to be, and finding out scares me, but now Eric is caught up in the chaos, and that's unacceptable. Thank God he still believes in me…for now.

I don't know how to fix this, especially when I don't remember enough to know what's going on. I know one thing for sure, Eric is starting to mean a lot to me, and I'm starting to desire things I shouldn't. He's all I have right now, so no matter what happens, I'm getting us out of this mess, one way or another.

That I promise.

***

A bisexual, friends-to-lovers suspense romance, Help Me Remember will keep you on the edge of your seat. Join Dylan as he searches for answers and uncovers long-buried truths and a passion far hotter than he expected. Will Dylan find a way to escape the Russian mafia's clutches and find his happily ever after, or will he and his lover end up dead?
NEW RELEASE, Kindle Unlimited
Heaven Sent, by HJ Welch
Two rival jocks. One adorable nerd. A bet that changes everything.

SETH

Being captain of the Paddle Creek Panthers is my life. I wouldn't care that my grades have slipped, except it could not only cost me my shot at the pros, but now the rich kid in town has wagered that if I don't graduate, I'll owe him big time. Can this gorgeous little freshman geek Gabe really save my degree and my reputation? All I know is that as soon as I laid eyes on him, I needed him. And I don't want to share.

MARTY

I've spent almost four years trying to get my captain Seth to notice me. He's hot as hell and knows how to boss a guy around, even one as big as me. To him, though, I'm just the team clown. But when he drags me into this graduation bet, it's no laughing matter. So why shouldn't this little cherub Gabe tutor me as well? In fact, I don't see why we can't share him in all kinds of ways. Seth is clearly a natural Daddy, Gabe thrives being doted on, and I'm happy to Daddy and be Daddied. Win-win, right?

GABE

Somehow, I've found myself standing up to the guy whose family pretty much owns Paddle Creek and put my neck on the line for two of the college's star players. Now we're spending every day together as I try and save their grades, and I don't know if I'm crazy but it's like they both want me. I've never had a boyfriend. I'm not even out to my overbearing parents. How could I choose between them…or do I actually have to when they both want to be my Daddies? After my life comes crashing down, it's their turn to come to my rescue. Maybe what me and these god-like men have isn't just a fling after all?

Heaven Sent is a steamy, standalone MMM romance. It's the first book in the Paddle Creek College series, where it's always the quiet ones who get up to the best kind of trouble. This book features a geek tutoring two hot jocks, two hot jocks tutoring a geek in a completely different way, a trash panda with a heart of gold, a human ice cream sundae, a revenge curse, and a guaranteed HEA with absolutely no cliffhanger.
NEW RELEASE, Kindle Unlimited
Charming His Omega Tiger, by Ava Beringer
I swore I'd never fall in love, but the alpha of my dreams just won't go away. Will I let myself fall for him?
Omega tiger Somchai Saithong doesn't want to be in love. Chai likes to look after his family, look after his business, and sass people in his spare time. When he locks eyes with a mysterious and irresistible alpha, Jay Woods, it leads to a night of passion like he's never experienced before. Still, Chai resists the call of the man who might be his fated mate. When Jay accidentally shows up at his store to conduct an inspection, Chai is shocked, but his defenses are no match for Jay's charm. Will Chai finally give in to the alpha of his dreams?
Alpha wolf Jay Woods is being pressured into a bond that he doesn't want. After a life-changing one-night-stand with Chai Saithong, he can't go through with bonding to an omega he doesn't love. He moves away from his pack. His territory at work changes and he's assigned Saithong's Authentic Thai, where he runs right into Chai. Chai's sassy attitude turns him on, and it becomes a game to toy with him. However, when Jay starts to fit into the family and Chai starts to open up he realizes that he can't settle for anything less than being with his fated mate, but how can he have his dream when it looks like Chai's too scared to let him in?
Will Chai let down his walls and embrace true love? Can Jay find his way into Chai's heart? Will their sizzling-hot chemistry turn into more…complete with a bundle of joy?

This is the sixth book in the Seven Corner Shifters series. This book has a HEA and contains occasional strong language, MPREG, and hot, spicy grownup stuff. The omegas are heating up and the alphas are very knotty boys. Get a FREE short story when you join the newsletter family!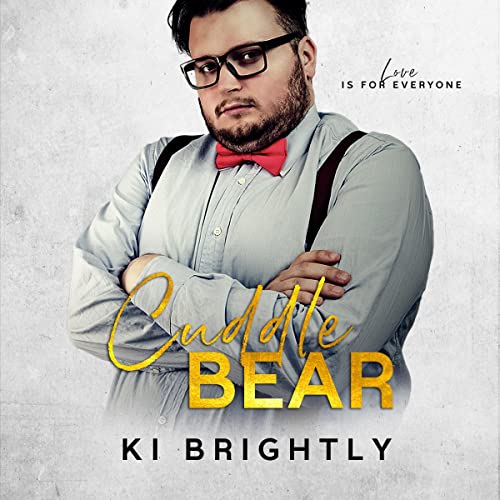 NEW AUDIO, Kindle Unlimited
Cuddle Bear, by Ki Brightly, narrated by Keval Shah
The Shy Assistant
Maurice Baranov III has more feelings than he should for his boss, Mr. Guidry. He watches over Mr. Guidry as part of his job, and Maurice has given up on trying to keep his feelings in check, even though he hides them. Maurice doesn't think of himself as the type of guy who gets a happy relationship. The last man he dated got angry when he started trying to lose weight. With all that past baggage, he can't imagine pursuing Mr. Guidry, so he is left with one option—forever wishing he could be with the man he loves.

The Clueless Boss
Fenwick "Wick" Guidry comes from a long line of businessmen who are good at keeping their work and homelife separate. He is failing miserably at upholding the tradition because he has been unable to think about anyone except his assistant.

One Vicious Prank
After accidentally upsetting Maurice at the office, Wick invites him out for drinks to apologize. They meet up with Maurice's cousin Lacey, who is having troubles of her own. Wick and Maurice promise to help her pull a prank on Edgar—a guy from their office who is annoying her—by agreeing to go on a double date. Who wouldn't be shocked to arrive on a date and find their boss waiting? Will Wick be able to transform his role of fake boyfriend into a real relationship? Or will he be too scared to take the next step with Maurice?
NEW RELEASE, Kindle Unlimited
Lenny And His Jackrabbit Lumberjack, by Lorelei M. Hart & Colbie Dunbar
Sometimes love hops in when you least expect it.
Human Omega Lenny's car breaks down at the worst time and place imaginable. The snow is falling, his cell phone has no reception, and he's going to be late for a job interview a hundred miles away. As the temperature begins to plummet and the sun has mostly set, Lenny sees no other option other than to trek in the direction of the house he sees lit up in the distance. It's better than freezing to death in his car as it gets buried in the snow.
Alpha jackrabbit shifter Conall is happy to have two entire weeks off. He loves his job as a lumberjack, and his crew are like brothers to him, but Conall longs for the bit of peace and quiet and time in his fur that comes with shutdown. Only his time off turns out to be nothing like what he planned.
When Conall hears a cry for help while he's in his fur, he races towards the sound to discover a human caught in a hunting trap, his leg bleeding and most likely broken. Without thinking, he shifts into his human form to help and is shocked to hear, "I know you," just as the man passes out. What was that about?
Lenny and His Jackrabbit Lumberjack is a sweet with knotty heat, country-city, MM, mpreg, shifter romance brought to you by the popular co-writing team of Colbie Dunbar and Lorelei M. Hart. It features a human looking to make a new start, a jackrabbit shifter breaking all the rules to save a stranded traveler, a snowed-in recovery, hot cocoa by the fire, true love, fated mates, an adorable baby, and a guaranteed HEA. If you love your omegas strong, your alphas hawt, and your mpreg with heart, download Lenny and His Jackrabbit Lumberjack today.
LOOKING FOR MORE AWESOME READS?
Gay Romance Reviews is looking for reviewers!
With an average of 70 titles offered each month, the GRR team is always looking for new reviewers to join us. So if you love gay romance, love free books, and will post reviews of the books you read, you could be just the person we're looking for!
Your information will never be shared or sold, and you can unsubscribe at any time. We are part of the Amazon affiliate program and may earn a small commission on qualifying purchases.