Prices may change without notice, and deals may only be available in select regions, so please verify before downloading.
Hit the easy button: Take me straight to Amazon!
NEW RELEASE, Kindle Unlimited
Love In The Mediterranean, by RJ Peterson
Neil Watkins isn't too surprised to receive an invitation to Rob Asher and Ben Rockingham's wedding. After all, he's been best friends with Ben's son Kyle for several years. But he is excited to be invited to join them on the honeymoon – a party for a select group of family and friends on an all-expense paid Mediterranean cruise. He's hesitant at first, but Kyle convinces him to go. Well, his own love life sucks at the moment. Maybe he'll have better luck in the Med.
When he receives an invitation to their wedding and honeymoon party, Matthew Palmer balks at the idea of joining Rob and Ben on their honeymoon cruise. The master jeweler, a friend to both men, thinks the offer is way too generous, but Rob's best friend Samantha persuades him to rethink his decision. His last relationship really knocked him for a loop, and maybe Sam was right and he should think about himself for a change.
When Neil and Matthew meet, unexpected and undeniable sparks fly. Has their luck finally changed? Can this really be their second chance at love in the Mediterranean?
NEW AUDIO RELEASE, Ebook in Kindle Unlimited
The Lady Under the Lake, by E.J. Russell (Greg Boudreaux, narrator)
This client is all wet…
After receiving a hot tip on the whereabouts of my almost-boyfriend's nearly-ex-husband (hey, I told you—it's complicated!), I thought my love life was finally coming up for air. But when we stake out the remote lake, it's not the ex who surfaces.
It's the Faerie King's long-missing mother (and I mean really long, as in double-digit centuries), and she wants to hire Quest Investigations. Since one of my bosses is the king's brother, he has a tsunami of…feelings about her as a potential client, and refuses to take the case. Instead, he passes it to me.
Yes! However…
Should I be thrilled at the vote of confidence or suspicious that he's tossing me in the deep end without a life preserver, the better to punish the woman who abandoned her kid all those years ago?
You know what? It doesn't matter. I may be Quest's token human, but I've proven I can get the job done, so I dive right in. Then the lady explains what she wants me to do: find her missing child.
Seriously? I expected more of a challenge. All I have to do is introduce her to the king and bingo, case closed. But when she says, "Not that one," this little family drama threatens to send ripples throughout the supernatural community—especially with my boss in over his head as the prime suspect in a fae kidnapping.
As if things weren't complicated enough… Remember that nearly-ex? When he shows up and muddies the waters, I'm faced with a choice: I can solve this case or I can finally hook my almost-boyfriend.
Dammit.
The Lady Under the Lake is the third in the Quest Investigations M/M mystery series, a spinoff of E.J. Russell's Mythmatched paranormal rom-com story world. It contains no on-page sex or violence, and although there is a romantic subplot, it is not a romance. The series is best read in order.
$2.99 BUNDLE SALE, Kindle Unlimited
Out: The Complete Collection, by Cara Dee
Comedy | Romance | Coming Out Story | Age Difference
In this 150,000-word complete collection, Zach and Henry bare it all. You'll get wild Los Angeles nights, the overwhelming emotional roller coaster of discovering yourself, plans gone awry, adventures, laugh-out-loud moments, and sizzling romance.
I had two things on my list when I arrived in Los Angeles. One, track down Henry Bennington, the uncle and guardian of my little brother's best friend Tyler, and tell him to get his ass back to Washington—because his nephew was getting out of control. And two, figure out just how non-straight I was.
Nowhere on this list did it say, "Get Tyler's uncle into bed and fall for him."
Nowhere.
This is the complete collection of every story revolving around Zach and Henry. All 150,000 words of them, starting with the first novel, Out, continuing with the holiday sequel, Out for the Holidays, and followed by a novella previously only available to Cara's newsletter subscribers, Out Cruising, as well as brand new content titled Out and About.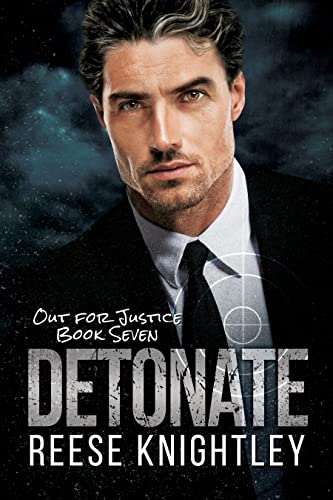 NEW RELEASE, Kindle Unlimited
Detonate, by Reese Knightley
The love of a lifetime hasn't always been easy…

Stefano – Phoenix Commander
He'd waited around long enough.
They'd known each other for over thirty years, been together for a good portion of those years, and had lived in the same house for the past two.
And still, Giovanni Rossi wouldn't tell people they were a couple. Of course, several of their family and friends suspected they were together, but nothing had ever been confirmed. And frankly, Stefano hated all the secrecy.
Maybe Rossi didn't want to make it official between them. Or maybe it was as simple as, Rossi wanted to live a straight life for the public.

Bottom line?
Stefano is tired of living in Rossi's closet.

Rossi – Phoenix Chief
How the hell had he gotten into this predicament?
His boyfriend, who on all accounts should have been his husband years ago, had left him.

And Rossi had only himself to blame.
Now he had to use his elite team of operatives to find the man who held his heart. If he had to, he'd toss Stefano over his shoulder and carry him home. But what if that didn't work? Well then… he would have to come up with something else to convince Stefano to give him another chance.

Because there's no way in hell Rossi is going to live without him.

*Come along for a wild ride in Detonate (Out for Justice book seven) as the men of Phoenix help Rossi track down Stefano!

**While it is not necessary to read the series to enjoy Detonate, previous couples are involved and do have opinions.
NEW RELEASE, FF ROMANCE, Kindle Unlimited
Christmas Bizarre, by Jodi Payne & BA Tortuga
Charlotte Miller is tired of feeling like a failure. She may have gotten herself fired, her love life has imploded…so when she gets the call that the annual Summit Springs Christmas Bazaar, which helps support her family's farm, is in trouble, she heads home to try to save the day. Maybe her luck will change and she will be happier for the holidays. Too bad her car decides to break down on the way.
Naomi "Lars" Beckett is too busy with the tree farm she runs and Christmastime to worry about a stranded hottie like Charlotte, but when they get snowed in together at an old cabin, she figures that's what she gets for trying to help. On the surface these two seem to have nothing in common, but opposites do attract, especially with the magic of the season, and they find they have more in common than they think.
Once they're back in the crazy mix of family, well-meaning town folk, and trying to make things just right for Christmas though, will they be able to make something together that lasts longer than old wrapping paper and holiday leftovers?
Christmas Bizarre is a small town, opposites attract, lesbian romance set in fictional Summit Springs, Colorado.
NEW RELEASE, Kindle Unlimited
Omega for Sale, by Beau Brown
Omega Atlas Payne never imagined he'd be at The Auction being ogled by rich alphas. He had bigger plans for his life that didn't include being an incubator to some alpha's offspring. But when his father disgraces his family name, it's either sell himself to the highest bidder or starvation.
Alpha Dante Stone is still grieving the loss of his omega a decade later. He has zero interest in taking a new omega. Still, he's inexplicably drawn to the young omega who seems completely out of place at The Auction.
When it looks as if the nastiest alpha at The Auction is about to win Atlas, something inside Dante snaps, and he buys Atlas himself.
But once he has Atlas in his home, he has no idea what to do with him. He craves Atlas but is too guilt-ridden to give either of them what they instinctively want.
Then fate steps in.
NEW RELEASE, Kindle Unlimited
Iced Out, by CE Ricci
All's fair in hate and hockey.

My path to success never included an enemy as a teammate, especially one as infuriating as Quinton de Haas.

Clawing under my skin is his favorite pastime, only feeding the animosity between us as the years pass.

We're as completely opposite as two people can be; the golden boy and the black sheep.

Constantly at odds or at each other's throats.

The only thing we can agree on is hockey is our true love, and we'll do whatever it takes to come out on top.

I never imagined that drive would lead me to do the unthinkable: falling into bed with my not-so-straight rival.

But athletes are a superstitious bunch, and when our hook-ups lead to victories, we tell ourselves we can't stop.

Besides, it's all for the sake of the team, right?


*Iced Out is the first in a five book standalone college sports romance series featuring two misunderstood rival teammates, pages of snarky banter, and more secret spicy times than any book should be filled with. Not suitable for anyone under 18 years of age.*
NEW RELEASE, Kindle Unlimited
Repentance and Absolution, by AE Lister
Book two in the Northern Horizons series
You can' t take back your sins. You can only hope for forgiveness.
Jimmy Downing traveled seven hundred sixty difficult and dangerous miles to bring Oscar Yates to Port Essington to find his uncle. When Jimmy saw the abandoned homestead Oscar had inherited, he envisioned a future for them there, as long as they could keep the true nature of their relationship a secret. But once the initial work is complete and they have a cozy living space and a stable for the livestock, Oscar and Jimmy face a long winter dealing with thoughts that have time and space to plague them.
Jimmy suffers nightmares of dark deeds committed in his past, while Oscar deals with trauma from his time in Dawson and his mistreatment at the hands of Spook. A new horse provides a distraction for Oscar and leads to new friendships and a break from their solitary existence, but a dangerous encounter exposes surprising truths about their nearest neighbors and a sense that their lives are being guided by forces outside their control.
NEW RELEASE, Kindle Unlimited
A Daddy for Kinkmas, by Reese Morrison
Naftali doesn't want a Daddy.
Naftali has tried depending on a Dom before, and it didn't work. He's too messy and irresponsible to be a full-time sub, so it's much safer to stick to hook-ups and scenes.
Even if it's never quite enough.
David doesn't want to embarrass himself. He just wants to become a good Dom.
David has spent a lot of time denying what he wants. And now he's ready… mostly. He just needs to learn all the skills and get it right. He's too awkward and insecure to practice with just anyone, but when the compelling and submissive teacher of his first workshop appears in his life again, maybe he can finally test out being the Daddy Dom he was always meant to be.
A week-long ski trip with a Cuffd Kinkmas event seems like a dream come true for both of them. David slowly gets to try out everything he imagined. And Naftali gets the pampering and care he never knew he wanted.
But will that be enough to stay together when the vacation is over?
A Daddy for Kinkmas has two neurodivergent trans characters, a happy-go-lucky boy with hidden insecurities, a shy Daddy with a lot to offer, a naughty Christmukkuh, and plenty of heat! It's part of the Naughty or Nice Season Three multi-author series. Each book can be read as a standalone, but with so many Daddies and boys finding their happily-ever-afters, why not grab them all?
99c SALE, Available Everywhere
Two-Man Team, by Amy Aislin
One wrongful arrest ruined Kris Xappa's image—and made his NHL team look bad. Now, with orders to keep his head down, the last thing he needs is to develop feelings for his younger teammate—and best friend's brother. The fact that he can't stop thinking about their one illicit kiss doesn't mean anything.
Rory Stanton is perfectly capable of taking care of himself and doesn't need his brother's best friend keeping an eye on him. Sure, he likes having Kris's attention, but he'd rather have it for entirely different reasons. Too bad that one kiss they shared wasn't enough to convince Kris to take a chance on him.
When an injury lands Rory in Kris's care, will these teammates be able to see past the obstacles to become a two-man team?
NEW RELEASE, Kindle Unlimited
The Krampus Kiss, by Hawke Oakley
Can a festive omega make Krampus's holiday wish come true?

Christmas is Angelo's favorite time of year. He loves the magic, snow and fuzzy feelings. But as a long-time single omega, Angelo yearns to spend the holidays with someone special. When a new alpha is hired at the market to play Santa, Angelo is instantly drawn to him. But Karl is cool, handsome and confident—and way out of Angelo's league…

Alpha Karl has a secret. By day, he plays Santa at the local market, happily entertaining kids and granting their wishes. But nobody knows that at night, his true form is revealed—a frightening horned beast with cloven hooves and a long tail. Karl is self-conscious about his identity as Krampus. What kind of omega would fall in love with a scary creature like him?

But when a blizzard rolls into town, Karl has no choice but to trust Angelo with his secret…

The Krampus Kiss is a sweet and fluffy 18k mpreg novella featuring a human omega, alpha Krampus and holiday cheer. It is a standalone with no cheating and an HEA.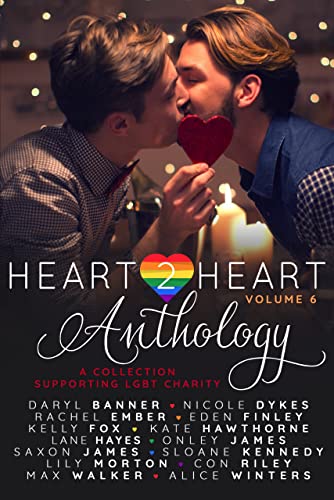 CHARITY ANTHOLOGY, Kindle Unlimited
Heart2Heart Volume 6, by various authors
Once upon a time, a bunch of authors wondered… what would happen if Heart2Heart, the dating app responsible for pairing up the quirkiest, most perfect couples, brought people together by asking the questions they never knew they needed answered?
From learning each other's secret zombie survival skills, to disputing the greatest starship captain ever, to confessing their feelings about Cornish pasties, the characters in these fourteen brand new stories inspired by reader suggestions will learn that no matter how random the question… love is always the answer.
And, as always, all proceeds from this anthology will benefit LGBTQ+ charities to ensure that love in all its incarnations will be celebrated and protected every day of the year!
Featuring brand-new, exclusive stories, by Alice Winters, Con Riley, Daryl Banner, Eden Finley, Kate Hawthorne, Kelly Fox, Lane Hayes, Lily Morton, Max Walker, Nicole Dykes, Onley James, Rachel Ember, Saxon James, and Sloane Kennedy
Your information will never be shared or sold, and you can unsubscribe at any time. We are part of the Amazon affiliate program and may earn a small commission on qualifying purchases.