Prices may change without notice, and deals may only be available in select regions, so please verify before downloading.
Hit the easy button: Take me straight to Amazon US!
NEW RELEASE, Kindle Unlimited
The Goodbye Wish, by Barrie Farris
Josseran is a medieval lay brother who swears he's a virgin to the mystic setting up a summoning spell. Trysts with men don't count, right? Wrong. The spell miscasts and bonds Josseran and a blue lizard to an amulet forcing them to serve whoever wears it.
Hal is an ambitious young historian with two quests—solving the great mysteries of the past and losing his V-card. Accidentally inheriting a bespelled amulet, he acquires a fascinating manservant who grants unlimited good wishes.
Turns out that magic exists and is responsible for many of life's strangest mysteries.
Josseran doesn't live inside the amulet until summoned. He's moving in as Hal's very visible roommate. Brawny, gorgeous, and fully equipped to please, Josseran is delighted to serve a cute male owner after centuries of selfish mistresses who regard him as a creature, not a man.
But fun times are limited. Only a virgin has the power to free Josseran by making an extraordinary wish to help mankind—and it must include the sacrifice of a personal dream. Owners call it the goodbye wish, because if granted, the spell breaks. Then it's goodbye to the owner's privileged life… and goodbye to Josseran who will cross into the afterlife.
Is giving up Josseran a personal sacrifice? Nope. Not that easy. Whatever Hal sacrifices must directly enable a wish that aids mankind. So far nothing connects.
Every miscast spell will break if the right thread is snipped. The one binding Josseran is a doozy.
The Goodbye Wish is a steamy paranormal romance of 80K words.
Contains explicit mm scenes that include first times and some unexpected firsts. Look for action, adventure, dark moments, outrageous humor, many twists, and twisted fun with friendly magical creatures called naturals and their wicked opposites called devastations.
99c BUNDLE SALE, Kindle Unlimited
The Way Home: The Complete Series, by May Archer
Find your Way Home with the complete 3-book Way Home series, along with a bonus short story that's never been available on Amazon before!
The Easy Way: When Kendrick Cortland's investigation into his brother's disappearance leads him to Seaver Tech and Camden Seaver, his quest for information and revenge quickly turns into far more than either man bargained for. Will Cam and Cort let conflicting loyalties and long-buried secrets drive them apart? Or will they decide that sometimes love is the easy way?
The Long Way: Damon Fitzpatrick has sworn to bring down Senator Shaw, then man who ruined his life. But when his quest for justice goes awry, Cain Shaw, the senator's only son, becomes Damon's unlikely savior, and the two are thrown together in a hunt for evidence that will free them both. As the road gets longer, the stakes get higher, and the danger that stalks them draws closer, they realize the one complication they can't outrun is each other.
The Right Way: Sebastian Seaver is obsessed with destroying Alexei Stornovich, the man responsible for the deaths of his fiancée and parents — no small task for anyone, even someone as brilliant as Bas. It's made even more complicated by the growing attraction he's feeling to his best friend Drew… who also happens to be his fiancée's older brother. With Alexei targeting them and their friends, Drew and Bas are forced to rely on each other more than ever. Will they recognize that the only right way to move forward is the one in which they're together?
Bonus short story:
The Way Back: High school ended a long time ago, and Peter's not the same sappy idiot who used to trail after his older brother's straight best friend. So it shouldn't matter that Logan is back in town for one night only, or that he and Peter end up at the same outrageous house party. The only problem is, Cupid can't seem to keep his nose out of their business.
NEW RELEASE, Kindle Unlimited
Blaine's Beast, by Joel Abernathy
It's the coldest night of the year–the kind of cold that sinks its teeth into the bones of anyone unlucky enough to find themselves at nature's mercy. Frostbitten and exhausted after getting kicked out of his home when he came out to his parents, Blaine is about to become the forest's next victim.
But when the howling wolves surrounding him turn out to be a pack of cursed shifters who only want to help the trespasser on their territory, Blaine's bad luck takes a turn for the better. As Blaine begins to uncover the secrets of this strange place straight from a fairy tale, he discovers that its beastly master may be more than he appears…
–
Blaine's Beast is a standalone MM Monster Romance retelling of Beauty and the Beast that was previously published under the author's pre-transition pen name as Blaine and the Beast. This story has been rewritten, but the foundations are the same.
NEW RELEASE, Kindle Unlimited
Can't Help Falling in Love with an Alien, by Chloe Archer
A grumpy-sexy alien and his (mostly) human sunshiny mate find the road to happily ever after is paved with challenges, including a troublesome ex, alien refugees in need of help, unexpected mating instincts, and someone trying to expose alien existence on Earth. Tentacles and tarnation! Will they be able to handle everything in their way and finally get engaged?

RIVER
Working for the Alliance is a sci-fi nerd's dream–aka mine–come true. I've even won the heart of my grumpy-sexy alien boyfriend. Nothing can bring me down, baby. I'm walking on freaking sunshine! Except now one of Kai's douchey AF exes decides to turn up like a bad case of crabs that he can't get rid of. I don't trust him one bit. But I've got even bigger problems to worry about. Like helping some awesome aliens in trouble, and maybe moving in with Kai, who's totally going to propose any day now—right? Oh, and my shady relatives might be hiring an assassin to take me out. So, you know, a day in the life of River Sullivan. I'm sure everything's going to be fine. Won't it?
KAI
Just when we think we have a new lead on the drug dealer targeting extraterrestrials on Earth, we run into a major roadblock. And the longer this mess of an investigation drags on without answers, the less I like it. Outside of work though, things are going amazingly well with my adorable mate–dear galactic gods, how did that happen? But with an ex back in my life wanting to be friends again, and the threat of a potential assassin looming, things are getting a little complicated. I love River with both my hearts—and all five tentacles—but even I'm worried I might not be able to protect him from the dangers ahead. Also, I need to figure out how the heck I'm going to propose to him. River deserves something "epic," and I don't want to let him down. Am I going to be able to deliver?
Can't Help Falling in Love with an Alien (Tentacular Tales #2) is a (116,000 words) M/M sci-fi rom com and the second book in the series. It should be read in chronological order. This installment features a pajama party date that will go down in infamy, inappropriate team t-shirts, a half-baked love poem, more Captain Starblade and Lord Vardox, drunken shenanigans courtesy of spaceship moonshine, unexpected mating instincts, plenty of new aliens with problems for River to solve, and tentacles galore. And possibly an epic proposal? This book has an HFN ending and no cheating. Never fear—there is a guaranteed HEA by the end of the series!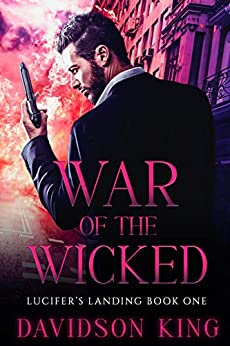 NEW RELEASE, Kindle Unlimited
War of the Wicked, by Davidson King
Lucifer's Landing is full of unscrupulous people: five families desperate to own every inch. For years, under the watchful and most powerful eye, there has been peace. With the murder of the most powerful man, it's as if the gates of Hell have opened.
Dante Scavo is trying to fill his father's shoes, find the person responsible for killing him, and stop Lucifer's Landing from becoming a war zone. He has to focus, find out who the traitor among his ranks is, and end them. The last thing he needs is a distraction, but when he meets Rainn, one look, one touch, takes his breath away.
Rainn Blessings is no stranger to strong and powerful men. His life is about survival and getting to a place where he finds his peace, though sometimes that means being the fantasy of others. Working as a high-class escort he's seen a lot…done a lot…and not much surprises him. Then Dante walks into The Magic Mirror and turns his world upside down.
With an unlikely ally, Rainn and Dante try to survive the storm, but no one is bulletproof or untouchable in the game of violent delights. Getting out unscathed is impossible; the question is: will they get out alive?
99c SALE, Kindle Unlimited
The Holiday Experiment, by Rhys Everly
Wanted: Single, hot, young man to sweep…my best friend's brother off his feet.
Enzo
After failing big in Boston, I'm back home with my tail between my legs.
And then somehow I rope myself into getting Carson's dating life in order.
We make a bet. Get him a boyfriend before Christmas or I lose and I have to do what he says.
Only considering the feelings I still harbor for him, losing may not be such a bad idea.
Carson
Everyone tells me I'm a workaholic.
What I really am is a man with a broken heart.
Until I get the wind knocked off my feet by my brother's best friend. Under the mistletoe. Because apparently my life is anything but subtle.
He's hell bent on getting me a boyfriend that is not him, but he's all I can think about.
This little holiday experiment between us is going to end up in disaster. I know it.
I just hope it doesn't leave me with more pieces to pick up.
The Holiday Experiment is a Christmas standalone and contains a young musician trying to find his place in the world, an almost forty-year-old workaholic that can't catch a break, an adorable goddaughter that seems to repeat all the bad words and a witchy mom that loves to bake magical cakes and solve problems.
FREE BOOK, Available Everywhere
Lumberjack Under the Tree, by Keira Andrews
Will former friends take a second chance on love?

Caleb
I couldn't admit I loved Blake in high school. I was captain of the hockey team and terrified of who I really was. It's been over a decade since that one night we shared. He's prickly as a porcupine, and I don't blame him one bit after the way I ghosted him.

I want him now more than ever.

Will he give us a second chance?

Blake
My first love is the last man I expect to show up to help me chop down Christmas trees. I've downsized for van life, and I was enjoying the peace and quiet in the middle of nowhere. Now all I can think about is Caleb as we work side by side.

Then a blizzard strikes.

We're stuck together in my van, and I won't give in to temptation. But I can't stop wanting him even though he broke my heart…

Lumberjack Under the Tree by Keira Andrews is a gay Christmas romance featuring forced proximity, lonely men with a second chance at romance, steamy snowed-in shenanigans, and of course a happy ending.
NEW RELEASE, Kindle Unlimited
Take Me Apart, by Skyler Snow and Brea Alepoù
I have only one goal in life: Become a detective. It's there, just out of reach, so close I can taste it. When I find out the Vitale family is about to be investigated again, I do what I do best.
Jump in head first.
There's just one problem; Enzo Vitale. The man is red hot danger, every word a dare from his lips. And I never was one to turn away from a challenge…
But when things get rough, lies reign and deceit is around every corner. I find myself drawn to the one man I should be running from. The criminal whose hands are bathed in blood.Am I falling for the enemy?
FREE BOOK, Kindle Unlimited
Too Close, by R. Phoenix
Skylar Orion's life has been complicated ever since his mother abandoned him and his sister Evie. Making ends meet seemed impossible until Tate Chandler took them in — his knight in shining armor who promised to make life about more than just surviving. But Tate is not the man he seemed to be, and even his whispered I love yous and generous gifts do little to soothe the pain he causes. Knowing he can't give his sister all that she deserves without Tate, Skylar stays with him, relying on bad puns and a worse sense of humor to keep up the charade.
He will do anything for his sister, even if that means acting the responsible adult and going back to his old high school to meet Dexter Weston, the hot math teacher who can make even algebra interesting. Sparks fly between the two of them, but with his dependence on Tate, Skylar isn't free to follow his heart. He wants what is best for Evie, but can he pass up the chance to find love that heals instead of harms?
NEW RELEASE, Kindle Unlimited
Wanted: Tender Daddy, by Sammi Cee
Some hurts change the course of your life forever, but with the devoted attention of an older Daddy, can a boy become comfortable enough in his own skin to hold on tight to the life he deserves?
As the last boy left from the original crew of waiters at The Tap Tavern searching for his Daddy, Archie's filled with nervous excitement. And a little dread. Okay, he's scared to death. He's never been able to get past the kissing portion of a date before he tenses up and ruins everything. What man is going to want to deal with that? Maybe it's time to admit that what happened to him as a pre-teen has broken him forever.
Detective Hutchinson, Hutch to his friends, has decided that he might as well just live for work. After years of searching for the perfect sub, his tastes have changed, leaving him clueless to what he wants or whom he's searching for.
When their paths collide, Hutch is intrigued by the brave young man who doesn't realize how strong he is. Archie is infatuated with the older man, but knows he can't possibly hold the attention of someone so capable and put together. Honestly, he wouldn't even know where to begin.
Can Hutch convince Archie that his innocence isn't the deterrent he thinks it is, and that he would be honored to give him the tender loving care that he needs?
Welcome to another heartwarming story from The Tap Tavern, where this new Daddy is willing to roll up his sleeves and put in the work to prove to his boy how very special he is.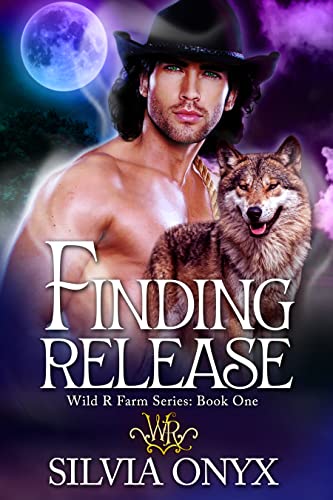 NEW RELEASE, Kindle Unlimited
Finding Release, by Silvia Onyx
When a werewolf cowboy fall for his horse shifter…..

I'm half werewolf, and some days the tension between my human side and my wolf instincts threaten to tear me apart.

The challenge of running a horse farm as a predator helps rein in the wildness until I'm confronted by horse shifter, Jonah Marks.

Jonah's family insists shapeshifting is wrong, but Jonah longs to let his stallion run free. When his brother threatens his life, he comes to me for help. Heat instantly flares between us, and I know Jonah is meant to be mine.

It's going to take all my strength to keep him safe and give us both a chance at the life we've always wanted.
Your information will never be shared or sold, and you can unsubscribe at any time. We are part of the Amazon affiliate program and may earn a small commission on qualifying purchases.