Prices may change without notice, and deals may only be available in select regions, so please verify before downloading.
Hit the easy button: Take me straight to Amazon US!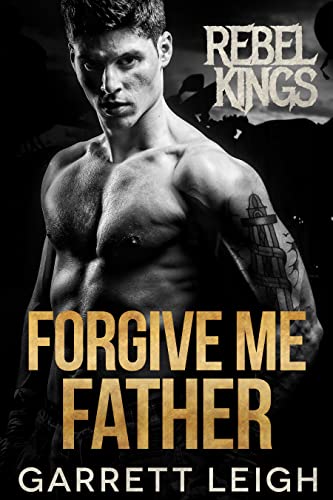 NEW RELEASE, Kindle Unlimited
Forgive Me Father, by Garrett Leigh
"A powerful, gritty, sexy as hell biker romance that kept me reading all night long…" ~ V.L. Locey – USA Today Best-Selling Author.
Expect: a sizzling hurt/comfort MM romance with a damaged chaplain and a dark-souled enforcer with a tender-hearted secret.

"I gave my darkest secrets to a man who doesn't exist."
Embry
"…you don't understand."
Mateo lowered himself to sit, still vibrating with the need to fix me, the way he always did. "Then tell me. Explain it like I'm the simplest idiot you've ever met."
I can't. I'd never told anyone. Not the judge, the jury, or the legal aid barrister who'd written me off before she'd ever met me. But as I drowned in Mateo's affection, in a love I'd done nothing to deserve, the words came tumbling out.
Bad words.
Dark words.
Darker than sin.
Darker, even, than Mateo's battered soul and the secrets I didn't know about yet.
I thought those words would shatter me.
Shatter us.
But when the devil came for us, it wasn't mine.
It was Mateo's, and the man I'd trusted with my fragile heart was a stranger more broken than his scars could ever show.

Forgive Me Father is a continuation of the best-selling Rebel Kings MC series. Content warning for violence and sexual trauma.
NEW RELEASE, Kindle Unlimited
Repentance and Absolution, by AE Lister
FROM EXCITING AUTHOR OF LGBTQIA+ ROMANCE AE LISTER
Book two in the Northern Horizons series
You can' t take back your sins. You can only hope for forgiveness.
Jimmy Downing traveled seven hundred sixty difficult and dangerous miles to bring Oscar Yates to Port Essington to find his uncle. When Jimmy saw the abandoned homestead Oscar had inherited, he envisioned a future for them there, as long as they could keep the true nature of their relationship a secret. But once the initial work is complete and they have a cozy living space and a stable for the livestock, Oscar and Jimmy face a long winter dealing with thoughts that have time and space to plague them.
Jimmy suffers nightmares of dark deeds committed in his past, while Oscar deals with trauma from his time in Dawson and his mistreatment at the hands of Spook. A new horse provides a distraction for Oscar and leads to new friendships and a break from their solitary existence, but a dangerous encounter exposes surprising truths about their nearest neighbors and a sense that their lives are being guided by forces outside their control.
NEW RELEASE, Kindle Unlimited
A Winter Romance, by Gigi Rivers
When a half-nymph rescues a city boy lost in the mountains, he brings him back to his cave. Problem is, there is only one bed.

Aryn should never have left the city. If he'd never left, he wouldn't have gotten lost in the mountains, thrown by his horse, and left stumbling through the snow trying not to freeze to death. All seems lost, when suddenly an attractive half-nymph appears before him.

Sero came to the forest to seek some much needed peace and quiet. But his plans are ruined when he comes across Aryn. Now, Sero is stuck caring for this foolish man who clearly does not belong in these mountains. He brings Aryn to his cave. Problem is, there is only one bed.

When a cold, snowy night turns steamy hot, Sero decides that the man isn't so bad. He invites Aryn to his village to spend the solstice festivities together. But is there a chance for something more than a fleeting winter romance?
NEW RELEASE, Available Everywhere
Moonlight and the Magician, by Evelynn Carver
Spoiled pretty boy, Valentino, a revered fire mage of singular talent, finds himself pressured into a political marriage with a sadistic noblewoman he barely knows. He's desperate to find a way out, even if it means leaving his gilded life in the spotlight behind.
Brand, a mysterious roguish vagabond, approaches Val and charms him into a deal: he will help him escape his problems in exchange for his assistance in breaking a vicious magical curse. What that curse entails is only revealed in the light of the full moon. Is Brand really who he says he is?
What begins as a romantic runaway adventure soon turns out to be much more than they bargained for. It seems that Valentino's magic isn't worth as much as he thought when it comes to dealing with a willful demon, gunslinging bounty hunters, and his own fickle heart. He might be falling in lust with a monster, but will he sell his very soul just to run away from responsibility?
NEW RELEASE, Kindle Unlimited
Santa's Omega Stepbrother, by Anna Wineheart
Every year on Christmas eve, Brodie gets a visitor he knows nothing about.
Brodie's life has become a sad, lonely thing ever since his son and best friend got together— his only excitement comes from the mysterious presents that appear under his Christmas tree every year.
When his heat rolls around on Christmas eve, all he expects is a good time with his new candy cane toy. Not his estranged stepbrother dressed up as Santa Claus, showing up in his house.
Peeking through his door. At him.
It doesn't matter that Noel can now fly through chimneys. Or that his eyes still make those dark promises. The fact remains that Noel has promised not to leave Brodie, and he broke his word.
Except Noel goes into a rut, and no contraceptives are used. Noel says he wants to make things up, though. He says he's never forgotten Brodie, never stopped caring about him.
Despite his good senses, Brodie badly wants to believe that alpha. But he can't risk his heart again… Can he?
NEW RELEASE, Kindle Unlimited
Shah Mat, by Jennifer Cody
Den:
What does one do when they're responsible for the death of their chosen mate? Kill a god, steal his powers, and reset the timeline, of course. What does one do when their chosen mate keeps throwing away his life to save the universe? Reset the timeline forty two times, obviously. I'm not letting Monet sacrifice himself because I made a mistake that ended the universe. I'm not letting any of my family sacrifice themselves to save the universe, and if I have to kill a thousand gods to save them from their hero-complexes? Done. I might be on the verge of villainy, but I have my priorities in line.
Slean:
What does a diviner do when the love of his mate's life dies in the apocalypse? Kill three gods, steal their powers, and change the fate of the world, of course. What does he do when his mate's the one responsible for starting the apocalypse? Everything he can to fix it, obviously. I'm not going to let the universe end. I'm not going to watch my family die because of my mate's choices, and if I have to create a few new Aquinos to do it? Done. It might make me insane, but I'll do anything for Den's happiness, even if that means becoming the villain in my own story.
NEW AUDIO RELEASE, Kindle Unlimited Ebook
The Christmas Leap, by Keira Andrews
Narrated by Greg Boudreaux
Fake romance shouldn't feel this real….
Will: I've never been with a man.
Sure, I've thought about it. Wondered. Daydreamed. Imagined. But I wasn't ready to take the leap.
I have a reputation as a "ladies' man". No one has any idea how curious I am about men—not even my openly bi best friend. Make that former best friend. Michael ghosted me, and I have no idea why.
Michael: The man I love is straight.
It hurt like hell when I had to distance myself from Will. I've tried desperately to grow up and get over him, but my carefully constructed life just fell apart—and Will rushes to my rescue.
Now we're pretending to be a couple to impress his boss at a holiday retreat. We're holding hands and hugging.
We're sharing a bed.
And Will just kissed me.
Is my best friend falling in love with me after all?
The Christmas Leap by Keira Andrews is a Christmas romance featuring friends to lovers, bi awakening, first times, and of course a happy ending. This stand-alone novel takes place in the same universe as The Christmas Deal.
NEW RELEASE, Kindle Unlimited
Saving West, by Denver Shaw
How far would you go to save someone?

I can't afford distractions.
I've been put on academic probation and I'm one mistake away from being expelled and losing everything I've worked so hard for.
All I want is to make my mother proud and honor her memory by getting my degree.
My plan this semester is to keep my head down, focus on my studies, and stay out of trouble.
But fate is fickle, and it seems like she has other plans when she suddenly dumps him at my feet.
Weston Perkins, the university's star football player.
He's the worst kind of distraction — beautiful and vicious, arrogant and hot as sin, troubled and vulnerable.
I can't bear to be around him, and yet, I can't seem to stay away.
But the more time I spend with him, the more I realize that there is something very wrong with West.
He's harboring a dark secret and desperately needs a friend.
I'm going to help him, even if he doesn't want it, and even if it means putting my future on the line.
Because some things in life are worth getting in trouble for.

Saving West is a slow-burn, emotional, hurt/comfort MM romance with moderate angst and a hard-earned HEA.
NEW RELEASE, FF Romance, Kindle Unlimited
Chainsaw Heart, by Kiernan Kelly
Alicia is on the run with her three-year-old autistic son, Micah. Behind her is an abusive ex and a life of hard work living at the poverty line. Ahead of her is the unknown set against the incredible beauty of the Colorado mountains. Carrying her along is her strong love for her son, a hope for a new life for them both, and maybe, just maybe a little love and happiness for herself.
NEW AUDIO RELEASE, Kindle Unlimited Ebook
Lost in Amber, by Maz Maddox
Being alive for millions of years means I'm rarely surprised.
In the long expanse of my existence, I've been rescuing fossils for only a breath. During that time, my path has crossed with many different people—shifter and human alike. Some friendly, some nefarious.
A hundred years ago, one such man graced me with his presence. He was one of the few to have almost killed me.
Imagine my surprise when I see him again, buying the rarest amber fossil to have ever been discovered.
Precious. Beautiful. Unique. A true treasure millions of years in the making.
I won't let him get away again.
NEW RELEASE, Kindle Unlimited
Fated: Hare and the Spirit, by Hawke Oakley
Animus
No one gets Animus.
In the eons he's existed, Animus has been rejected by whole world. Mortals don't revere him and his fellow spirits belittle him. Furious and hurt, Animus concocts a dastardly plan to get back at them all.
Shifters are strongest when protecting their loved ones. What better way to incite that power by capturing one of their own?
But there's one big risk Animus never calculated: falling for the mortal alpha he kidnapped.
Leveret
No one gets Leveret.
He's not like the rest of his family. He's different. And that's okay.
What's not okay is that his family expects him to be mateless forever. Just because he doesn't express himself like everyone else doesn't mean he wants to be alone.
So it's actually a nice change of pace when he gets whisked away by the dark spirit everyone's so terrified of.
Leveret thinks he's pretty cute.

Fated: Hare and the Spirit is an mpreg book with an autistic hare shifter, a scorned spirit, sweet fluff and hurt/comfort, and an HEA as usual! This is the final book in the Pack of Heirs series and best enjoyed in series order.
99c SALE, Kindle Unlimited
Hell & High Water, by Charlie Cochet
Action. Comedy. Romance. And that one weird guy. When homicide detective Dexter J. Daley's testimony helps send his partner away for murder, the consequences – and the media frenzy – aren't far behind. He soon finds himself sans boyfriend, sans friends, and, after an unpleasant encounter in a parking garage after the trial, he's lucky he doesn't find himself sans teeth. Dex fears he'll get transferred from the Human Police Force's Sixth Precinct, or worse, get dismissed. Instead, his adoptive father – a sergeant at the Therian-Human Intelligence Recon Defense Squadron otherwise known as the THIRDS – pulls a few strings, and Dex gets recruited as a Defense Agent. Dex is determined to get his life back on track and eager to get started in his new job. But his first meeting with Team Leader Sloane Brodie, who also happens to be his new jaguar Therian partner, turns disastrous. When the team is called to investigate the murders of three HumaniTherian activists, it soon becomes clear to Dex that getting his partner and the rest of the tightknit team to accept him will be a lot harder than catching the killer – and every bit as dangerous.
Your information will never be shared or sold, and you can unsubscribe at any time. We are part of the Amazon affiliate program and may earn a small commission on qualifying purchases.