Prices may change without notice, and deals may only be available in select regions, so please verify before downloading.
Hit the easy button: Take me straight to Amazon US!
FEATURED NEW RELEASE, Kindle Unlimited
The Mechanics of Lust, by Jay Hogan
I broke the rules and fell in love with my best friend. Newsflash—he didn't feel the same. I had to stand by and watch him fall for someone else. Moving on hasn't been easy since we all live and work on the same high country sheep station, but I'm finally getting there.

I'm building a new life, a new set of dreams, planning a different future, just me and my dogs. The last thing I need is Luke Nichols, the sexy, enigmatic, ex-husband of my nemesis, filling my head with a laundry list of cravings. Talk about complicated.

Luke is only in Mackenzie Country for a few months and I'm not about to put my heart on the line again just for a little fun. But the more I'm around Luke, the harder it is to remember exactly why Luke and I are a bad idea, the worst idea.

Things between us are about to go nuclear.

Maybe I'm wrong.
Maybe we can keep it simple.
Maybe I can satisfy my cravings and hold on to my heart.
And maybe pigs can fly.
NEW RELEASE, Kindle Unlimited
Fire Smoldering, by Arian Williams
Fire born
Fire lived
Two flames destined to be together
Can they overcome dark forces threatening them?
K-pop idol with a power over fire
A fire wielder who rises like phoenix
They smolder and burn when they meet
Sanang is a K-pop group composed of five idols with elemental powers that fight against dark creatures. This is the fourth book in the Sanang series and the story of Hwa and Menes, their love and their fight against the dark creatures that threaten everyone.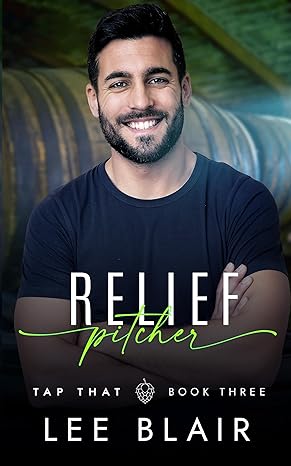 NEW RELEASE, Kindle Unlimited
Relief Pitcher, by Lee Blair
I thought I was helping him get his groove back. Turns out, he's helping me fall in love.

Tyler
I have one rule when it comes to matters of my hormones: one and done. Consensually, of course. Fun with no complicated romantic feelings. Not that I'm built to experience those, anyway.

After my car breaks down on a remote road, I follow a lumbersnack back to his creepy cabin for the cell service. When a tree falls and blocks my car, I make the most of it. What's more casual than riding out a storm in bed?

Except it stops being casual when I get hit with Big Feelings™ that equally terrify and thrill me. I'm a sure bet as a good time but high risk when it comes to caring for someone's heart.

Cooper
I've been kind of a hermit since my husband died. Lately, though, I've been toying with the idea of putting myself out there again.

So when a hot guy with a fondness for d1ck jokes and a heart of gold offers to "clean out my pipes," I grab it—and him—with both hands.

I know Ty doesn't sleep with the same guy twice. So, after our unexpected weekend together, I focus on being grateful and moving on. But when he ends up as the relief pitcher for my rec softball team, the time we start spending together makes me want him even more.

Except after living through one massive loss, I'm not sure I'm brave enough to risk my heart again.

—
Relief Pitcher is a low angst, sweet and steamy MM contemporary romance with a demiromantic awakening, lacy underthings, unintentional arborist slander, plus size representation, and crows. A lot of crows. It's book three in the Tap That Brewery series, which follows best friends who run a brewery together in a small town you'll wish you could visit. Each book can be read as a stand-alone, but the jokes hit better if you read them in order.
NEW AUDIO RELEASE, Kindle Unlimited
Master Zane's Boys, by Morticia Knight
Narrated by John Solo
Master, Daddy, protector. Zane will do anything for his boys….

As the owner of Boston's Club Sensation and mentor to the kink community, Master Zane does whatever he can to help those in need. When Ryan, his boy and Little, begs Zane to assist a young homeless man in trouble, he doesn't hesitate. But why is Tyrese so vague about his circumstances?

Ty is new to the world of BDSM, and Zane wonders if that's why he won't trust them with his secrets. But as their connection deepens, it becomes clear they all desire more than friendship, and that Ty is ready to explore a different way of life.

However, their world comes crashing down when Ty finally reveals why he's so terrified. Zane realizes he must protect both of his boys more than ever, but fears he'll fail. Will their threesome be destroyed by the danger that looms over them, or can they outwit the enemy?

Note: Master Zane first appeared in Born Daddy as the owner of Boston's Club Sensation, and mentor to new Daddies and Masters, but you don't need to read that book to enjoy this one. Master Zane's Boys kicks off the emotional and steamy Club Sensation series with the story of how Zane met the sub and Little who forever changed his life. Join him and all the club members as they explore exciting new lifestyles and search for who was meant for them. Grab this hurt/comfort, found family, age gap romance now!
NEW RELEASE, Kindle Unlimited
Magic and Mayhem, by M.A Innes
Talon
Aliens. Deputy Talon Winslow is pretty sure he's protecting aliens, but he's starting to get the hang of it…aside from a few interesting issues that keep popping up, like an armored truck going missing. His new job pays too well to be as simple as it looks, but he hadn't expected glowing eyes and adorable littles who almost sparkle they're so fascinating. But if aliens come in cute and kinky, does it really matter they're not human?

Kenzie
Dragons. Kenzie can't quite decide if the new deputy he's planning on keeping knows about dragons and mages or not. However, it doesn't take him long to decide it isn't the most important question when dating the handsome, slightly puzzling human. When will he get to call him Daddy and if the deputy knows Kenzie is keeping him are much better questions.

When a small mountain town isn't as boring as it seems, a slightly confused human and a dragon with a toy hoard will learn that there's always a bit of magic involved when falling in love.
99c SALE, Kindle Unlimited
Red Heir, by Lisa Henry & Sarah Honey
Imprisoned pickpocket Loth isn't sure why a bunch of idiots just broke into his cell claiming they're here to rescue the lost prince of Aguillon, and he doesn't really care. They're looking for a redheaded prince, and he's more than happy to play along if it means freedom. Then his cranky cellmate Grub complicates things by claiming to be the prince as well.
Now they're fleeing across the country and Loth's stuck sharing a horse and a bedroll with Grub while imitating royalty, eating eel porridge, and dodging swamp monsters and bandits.
Along the way, Loth discovers that there's more to Grub than meets the eye. Under the dirt and bad attitude, Grub's not completely awful. He might even be attractive. In fact, Loth has a terrible suspicion that he's developing feelings, and he's not sure what to do about that. He'd probably have more luck figuring it out if people would just stop trying to kill them.
Still, at least they've got a dragon, right?
NEW RELEASE, Smashwords Exclusive
The Family Bond, by Ki Brightly and M.D. Gregory
Identical twins Boone and Diah Bohannan have only ever been able to count on each other. It has always been them against the world and that's how they like it. They're a duo until Boone decides to go out alone and join the St. Loren Gentlemen's Society to find opportunities to network. There's one problem. The Gentlemen's Society is a place for illegal deals and cutthroat politics. The president, Birch Shepherd, needs a way to keep the members in line because there are too many dangerous men in one place. The final initiation into the club is to either commit murder or sleep with a family member. Each candidate must provide their own blackmail material. Boone decides to seduce his twin brother. Diah is oblivious to Boone's intentions, but his twin is the only man in the world he trusts. Falling into bed with Boone is easier than Diah expects, but what happens when he finds out the truth behind Boone's intentions?
NEW RELEASE, Kindle Unlimited
Zero Control, by Trina Lane
Keiji Pacheo knows there is something very wrong with one of the smart weapons his company has fast-tracked for production. Something has to be done to protect millions of people from being targeted. But apparently, he is the only one willing. He needs help or artificial intelligence is going to run amok and destroy the world!
Sergeant Major Rick Davis thought it was going to be just another day at work, but he quickly finds himself defending his professional integrity, fleeing from the NSA, and racing around the world with a crazy, but seriously hot, software engineer. He never expected a cyber defense gig for the US Army to turn into a real-life action movie. Therefore, it's only logical to ask just what IT gods he's pissed off.
Together Rick and Keiji have to figure out who they can trust to help them navigate the unexpectedly dangerous world of cyberwarfare. Along the way they discover there is nothing so simple as hitting reset or flipping off the power when the problems spread to other military systems. Keiji has to rely on Rick's skills to keep them alive, and Rick needs Keiji to stop the first set of smart weapons ready to deploy. Can they really make a difference when it seems like the whole world is against them?
FREE BOOK, Direct from the Author
The Omega Shift, by Tamsin Baker
In a world where only the paranormals survived… A virus wiped out all humans on Earth ten years ago and now there is a war going on between all those left standing.

Caden is an Omega wolf, struggling to stay alive among the ranks of the vicious pack he belongs to. He's been used and abused by so many who were meant to protect him, yet is alive, unlike so many other Omegas who did not survive the rigors of the new world. His only goal is to fulfill his promise to his grandma, to survive at any cost.

Max, Alpha of the Olano pack was a cop for ten years before the world went to hell in a hand basket. Now, he fights to keep his pack on top, fed and alive. He mounts an attack against a rival pack, only to realize that a revered Omega is among their ranks, and not only that, but Caden is his fated mate.

Can Max convince the broken Caden that love and destiny still exist, or will the violence of their fractured world tear them apart?

*** Guaranteed happily ever after, standalone book. Steamy short read with a possessive Alpha and a broken Omega.
NEW RELEASE, Get it on Amazon
Prescription for Love, by Ellis Colton
Can a handsome, big-city doctor and a laid-back, small-town sheriff find the right balance for love?
Jake Gutierrez is the sheriff of Lamesa, a small town in Texas, where he knows everyone and everyone knows him. He's not interested in having a relationship–he prefers having some fun now and then on his own terms. With his job and his friends, Jake's life is exactly how he likes it: comfortable, enjoyable, and with no strings attached.
Dr. Troy Cooper, fresh from Dayton, Ohio, arrives at Lamesa General Hospital to finish his residency. Troy recently caught his fiance cheating on him (and on his new patio set too!). It broke Troy's heart, so now he's making a fresh start in Lamesa. No more relationships for him! He's single and ready to mingle!
He and Jake hit it off and they're on the same page. . . right? No strings attached, no sir.
At least, that's how it is until Jake's brush with a medical emergency makes Troy aware of Jake's changing feelings. Now Troy must examine his own heart, all while considering a major career opportunity move to North Carolina.
With the complexities of small town life, hearts with a mind of their own, will they be able to sort everything–and themselves–out?
Prescription for Love is an MM romance featuring a slow burn, hurt/comfort, opposites attract in a delightful small town setting with a rewarding HEA.
99c SALE, Kindle Unlimited
Dead Speak, by Pandora Pine
Demoted to the cold case squad after shooting a suspect in the line of duty, Detective Ronan O'Mara knows that his career with the Boston Police Department is hanging by a thread. His first assignment is the case of Michael Frye, a five-year-old boy who has been missing for seven years. With no new leads or witnesses to interview, Ronan has to start from scratch to solve this mystery. When he sees a handsome local psychic on television, Ronan figures he's got nothing to lose in enlisting the man's help to find Michael.
Psychic Tennyson Grimm is riding high after helping South Shore cops find a missing child. He's even being courted by the Reality Show Network about a program showcasing his abilities. He has no idea that his midday appointment with a customer, who instead turns out to be a police detective, is going to change the course of his life and his career.
With the blessing of the BPD, which badly needs an image make-over, Ronan is allowed to bring Tennyson in to assist with the Frye case. Being thrown together in front of cameras is never easy, but add in an emotional missing person's investigation, a tight-lipped spirit, and a cop who's a skeptic, and it definitely puts a strain on both men and their working relationship.
When the child's body is found, the work to identify his killer begins. As Ronan and Tennyson get closer to solving the case, the initial attraction they feel for one another explodes into a passion neither man can contain.
Will working together to bring Michael's killer to justice seal their fledgling bond, or will unexpected revelations in the case tear them apart forever?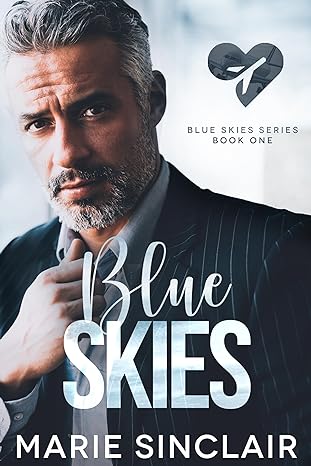 NEW RELEASE, Kindle Unlimited
Blue Skies, by Marie Sinclair
Blue Skies is a low angst, age gap, one bed, hurt/comfort novel featuring an HIV-positive, asexual flight attendant with trust issues and a closeted flight instructor.
As a sex-positive asexual man with HIV, Greg's been told it's just too complicated to be in a relationship with him. His latest boyfriend turns out to yet another in a long line of guys who say they understand asexuality only to put pressure on him to perform. Six months later, still despondent over this latest betrayal, Greg doesn't have any expectations when he joins his friends at their favorite West Hollywood club. Meeting a sexy silver fox was definitely not on the agenda, nor was wanting to get to know the man better, but unfortunately, Holden's leaving the next morning for the East Coast. As a flight attendant, Greg's schedule has him out of town the following week. Regretfully, they trade phone numbers and part ways.
Holden has been in the closet his entire life. First with his conservative parents, then in the Navy, and now as an employee of a military contractor. It's safer pretending to be straight. The only time Holden steps out of the closet is when he's on a business trip. Quickies and hook-ups have been the name of the game for him for nearly thirty years. Now nearly fifty, Holden's getting tired of it, but only has a few more years before he can live his life on his own terms. Then he goes to Neon and meets Greg. Even after Greg refuses to go back to Holden's hotel room and they part ways, he can't stop thinking about Greg and wishing he'd been able to say yes to dinner the following night. But then Greg doesn't call or text him, so Holden figures the invite was just a way to let the old guy down easy.
A week later, Holden's got a meeting in Denver, and who shows up as part of the flight crew? It's Greg, who takes one look at Holden and…if looks could kill, Holden would be a smoldering pile of ash. Undaunted, Holden tries to talk to Greg during the flight only to be shut down and told to return to his seat. But fate has a different idea.
Discover more hand-picked releases and deals on our Amazon page!
Your information will never be shared or sold, and you can unsubscribe at any time. We are part of the Amazon affiliate program and may earn a small commission on qualifying purchases.