Prices may change without notice, and deals may only be available in select regions, so please verify before downloading.
Hit the easy button: Take me straight to Amazon US!
FEATURED NEW RELEASE, Multiple Retailers, Kobo Plus
Icarus and the Devil, by Layla Reyne
My name is Icarus for a reason.
If there's a way to screw up a plan, I'm your man.
Case in point:
Falling for the man I'm supposed to seduce and ferry to his death.
Adam Devlin, aka the Devil.
A vigilante ex-cop and a thorn in the side of the mobster blackmailing me.
Should be easy.
Except Adam's longing for intimacy—for submission—is irresistible.
Seduce him, yes. Lead him to his death, world of no.
There's only one solution to save us both: kidnap the Devil.
I mentioned my name is Icarus, right?
Three guesses how this plan will go.
Bet you only need one.
Icarus and the Devil is a steamy M/M paranormal romantic suspense novel. It features two danger-magnet men trying to stay alive and failing to stay away from each other. Chaos ensues on their way to happily ever after.
NEW RELEASE, Kindle Unlimited
In the Gray, by Christina Lee
Foster
I moved to a new city for a librarian job at the university, and though I'm enjoying the change, it does little to dispel the dull grayness of my world. When my dog, Oscar, forms an instant bond with a man living in a yellow tent, my surroundings begin to feel more vibrant and full of possibility. I'm first drawn to Lachlan's soulful eyes, and then to his kind nature and resilient spirit. I want to know more about him, and Oscar seeking him out on our daily walks provides me with that opportunity.

Lachlan
One split-second decision leads to losing everything and living on the streets. Still, I'd choose my current conditions over being harmed by someone I loved. The only bright spot in my struggle to survive is the handsome stranger and his dog. Despite how compassionate Foster seems, I don't want any handouts. I need to stay safe and stand on my own two feet after what I've been through. But when I find myself in a bind, I allow Foster to rescue me, if only for a night.

Our circumstances couldn't be more different, and yet I'm drawn to Foster in ways I hadn't expected. When our attraction skyrockets, Foster assures me that finding comfort in each other doesn't hurt anyone. But when it becomes something deeper—meaningful conversations and mind-blowing intimacy—it occurs to me that I might've met the right man at the wrong time. Story of my life.
NEW RELEASE, Kindle Unlimited
Caller of Crows, by Silvana Falcon
He was prepared to gamble his blood, not his entire heart.

Vampires have always made Sven's heart beat harder, but when his mother's life is on the line, he decides to face his fears. He decides to become immortal so that he can pass that gift on to her.
Determined, he seeks out the Caller of Crows, a charismatic vampire by the name of Altair, and with his pulse pounding in his ears, he offers himself to the vampire and asks to be turned.
The problem is, Sven lives in a city that is ruled by the paranormal, and pure mortal blood has become exceedingly rare. It's a treat that every vampire covets–and Altair is no exception. He doesn't want to turn Sven and let his sweet, sweet blood go to waste. Instead, he locks Sven in his bedroom as a valuable prisoner, as his property.
In his desperation, Sven realizes what he must do to get what he wants from the vampire: he needs to make Altair fall for him, to make the handsome devil see him as something more than a hot meal. He needs to melt the ice around Altair's heart and make him want eternity with Sven… and he needs to do it without falling for the ruthless vampire in return.
99c SALE, Kindle Unlimited
New Addiction, by April Kelley
A dragon shifter who doesn't rely on anyone. A bear shifter too grumpy for his fated mate. Attraction isn't the problem. It's deciding whether to let love in.

Caerwyn needs to be at home in Wingspan. After his parents die in a tragic accident, picking up the pieces for his brother and sister hasn't been easy. The last thing he needs is for the alpha to loan his tracking skills out to the Saint Lakes clan. And he certainly doesn't need a fated mate.

Rory will do almost anything for solitude. He doesn't like people or conversation. All he really wants is to cook at the local diner and stay home. What he doesn't want is a mate who will demand his time and attention.

When Rory sees how much Caerwyn needs someone to rely on, he has to decide what's more important. His solitude or his fated mate.

New Addiction is the first book on the MM paranormal romance in the Wingspan series. If you like growly bear shifters and dragon shifters too stubborn to ask for help, then you'll love this romantic novel.

Buy New Addiction to begin your visit in a small dragon shifter town.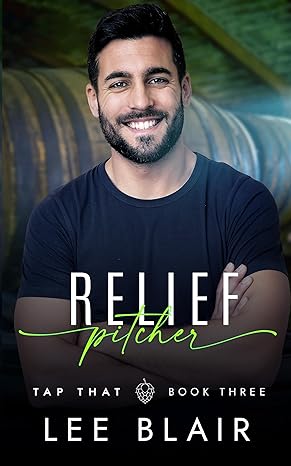 NEW RELEASE, Kindle Unlimited
Relief Pitcher, by Lee Blair
I thought I was helping him get his groove back. Turns out, he's helping me fall in love.

Tyler
I have one rule when it comes to matters of my hormones: one and done. Consensually, of course. Fun with no complicated romantic feelings. Not that I'm built to experience those, anyway.

After my car breaks down on a remote road, I follow a lumbersnack back to his creepy cabin for the cell service. When a tree falls and blocks my car, I make the most of it. What's more casual than riding out a storm in bed?

Except it stops being casual when I get hit with Big Feelings™ that equally terrify and thrill me. I'm a sure bet as a good time but high risk when it comes to caring for someone's heart.

Cooper
I've been kind of a hermit since my husband died. Lately, though, I've been toying with the idea of putting myself out there again.

So when a hot guy with a fondness for d1ck jokes and a heart of gold offers to "clean out my pipes," I grab it—and him—with both hands.

I know Ty doesn't sleep with the same guy twice. So, after our unexpected weekend together, I focus on being grateful and moving on. But when he ends up as the relief pitcher for my rec softball team, the time we start spending together makes me want him even more.

Except after living through one massive loss, I'm not sure I'm brave enough to risk my heart again.

—
Relief Pitcher is a low angst, sweet and steamy MM contemporary romance with a demiromantic awakening, lacy underthings, unintentional arborist slander, plus size representation, and crows. A lot of crows. It's book three in the Tap That Brewery series, which follows best friends who run a brewery together in a small town you'll wish you could visit. Each book can be read as a stand-alone, but the jokes hit better if you read them in order.
$1.99 NEW RELEASE, Multiple Retailers, Kobo Plus
See Who Loves You Now, by Jae Greyn
The worst birthday turns into the best when Kansas and Shiloh meet Sam and Rye Lance. But are they part of Catori's plan to wipe the Felides Clan from existence, or is it forever and always?
A spell stands between them and the truth. Only Time will tell.
NEW RELEASE, Multiple Retailers
Unbreak My Heart, by Deja Black
A restaurant manager starting over. A merman learning himself for the first time. Will their plunge into the unknown lead to a life shared together?
Restaurant Manager Tony Aikawa moved to Charleston, South Carolina, looking for a fresh start for his family. Life after his wife left him with their four children has made him feel bereft. He's doing the best he can, but it's hard doing it alone.
Law student Adamaris Hali thought he was human. Or that's what his father led him to believe. Now his father, a former Guardian of Neptune, has left his family behind to join his mate in the city of Atlantis. Adamaris has learned his mother didn't just die but was viciously murdered, and he is not human but a merman as well. Now, he has to learn how to embrace the being within.
These two broken men are starting something new. Will it lead to a forever together?
NEW RELEASE, Multiple Retailers
A Fall of Light, by LJ Greene
LJ Greene brings to life one of her most compelling characters: the intensely creative bass guitarist, Greg Van de Meer. A Fall of Light weaves together the strands of Greg's private and public lives—a shattering personal history, a love affair with potentially disastrous consequences, and family bonds that are stretched to their breaking point.
It's been fifteen years since Greg was outed by his fundamentalist father at age sixteen and sent from home, with devastating consequences for both he and his younger brother, Asher. Now unlaid ghosts from the past are stirring. With his band's success on the world stage, Greg's life takes a complicated turn when he develops a friendship with Louis Angel, an ex-Marine with a secret of his own, and finds himself facing familiar threats from an unexpected source.
Strained loyalties, a private affair, and Greg's own guarded history collide dangerously until a visit from an old foe forces him to confront past wounds and present beliefs. Allegiances are called into question and he must decide whether the secrets he's fighting to protect are worth the life he's finally ready to have.
A Fall of Light is a standalone adult contemporary M/M romance.
NEW RELEASE, Kindle Unlimited
Toby And His Dragon Librarian, by Colbie Dunbar, Lorelei M. Hart
Sometimes you can go home again.
Alpha dragon shifter Dane dreamed of running a huge city library, but as he finished his degree, he was hit with the reality that his dragon didn't want to be trapped in a world of steel and concrete. He longed for fresh air and a place to fly. When a small community in the middle of nowhere advertised for a head librarian, he applied immediately. It might not be the job of his dreams, but sating his dragon and doing what he loved was worth it.
Human omega Toby left his small town the day after graduation and never looked back. He had big plans that included a fancy college degree, an office with a window, and a house in the burbs. Toby got all of that and more, but as each year passed, the more he felt called home. When his father had a stroke, he saw it as a sign it was time to leave the city and get back to his roots.
When the internet at his father's house goes out, Toby does the old-fashioned thing and heads to the local library where he meets the epitome of sexy librarians. If only the guy didn't hide in his office the second Toby walked in.
Toby and His Dragon Librarian is a sweet with knotty heat, country-city, MM, mpreg, shifter romance brought to you by the popular co-writing team of Colbie Dunbar and Lorelei M. Hart. It features a human coming home, a dragon reevaluating his dreams, a hoard sweeter than honey, an adorable kitten, an unexpected clutch, true love, fated mates, an adorable baby, and a guaranteed HEA. If you love your omegas strong, your alphas hawt, and your mpreg with heart, download Toby and His Dragon Librarian today.
NEW RELEASE, Kindle Unlimited
The Mechanics of Lust, by Jay Hogan
I broke the rules and fell in love with my best friend. Newsflash—he didn't feel the same. I had to stand by and watch him fall for someone else. Moving on hasn't been easy since we all live and work on the same high country sheep station, but I'm finally getting there.

I'm building a new life, a new set of dreams, planning a different future, just me and my dogs. The last thing I need is Luke Nichols, the sexy, enigmatic, ex-husband of my nemesis, filling my head with a laundry list of cravings. Talk about complicated.

Luke is only in Mackenzie Country for a few months and I'm not about to put my heart on the line again just for a little fun. But the more I'm around Luke, the harder it is to remember exactly why Luke and I are a bad idea, the worst idea.

Things between us are about to go nuclear.

Maybe I'm wrong.
Maybe we can keep it simple.
Maybe I can satisfy my cravings and hold on to my heart.
And maybe pigs can fly.
NEW RELEASE, Kindle Unlimited
ISO: In Search Of, by Lucy Lennox and Molly Maddox
How in the world does a grumpy rancher end up falling for a rich dilettante?
Richard Dunning has it all: private school education, an exquisite designer wardrobe, a last name that ensures he's invited to all the best parties, and a skincare regimen that's to die for.
The only thing he doesn't have is… well, a job. Or a home. Or money in the bank. Not since his dad cut him off.
So when his best frenemy approaches him with a bet—spend a month working as a cowhand on some godforsaken Wyoming ranch in exchange for his dream job—he's a little too proud and a lot too desperate to say no.
But from the moment Richard and his rhinestone cowboy hat show up at the Silver Fork Ranch, nothing is as expected.
Not the beautiful vistas, not the terrifying horses, not the friendly people, not the epic quantities of cow manure, and definitely not Boone Hammond, the rugged rancher whose eyes are a little too intense, whose expectations are a little too high, and whose kisses are… a lot too tempting.
But when his month on the ranch comes to a close, Richard must choose: return to the safe, luxurious life he thought he wanted… or risk everything for the love he's been IN SEARCH OF all along.
DISCOVER A NEW AUTHOR – FREE
Transformation, by G.R. Lyons
Alasair and the world. Some reassembly required.
Being sixteen is hard enough without…
…being trans.
Because everyone knows that all magi are men, but Alasair has the gift of magic despite being born with a female body, making him the exception that proves the rule. But not everyone sees it that way.
…unrequited love.
Because Wren is his best friend, but Alasair wishes they could be more.
…the gods breaking the world.
Because Alasair is definitely not ready for that.
Discover more hand-picked releases and deals on our Amazon page!
Your information will never be shared or sold, and you can unsubscribe at any time. We are part of the Amazon affiliate program and may earn a small commission on qualifying purchases.