Prices may change without notice, and deals may only be available in select regions, so please verify before downloading.
Hit the easy button: Take me straight to Amazon US!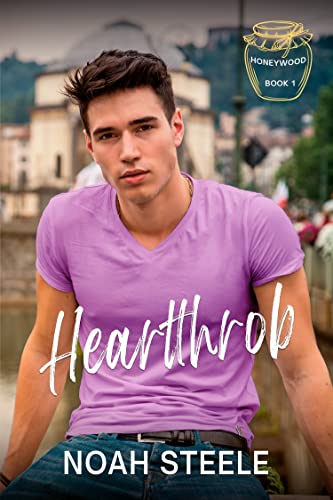 NEW RELEASE, Kindle Unlimited
Heartthrob by Noah Steele
One chance meeting. Two curious college boys. Three weeks to follow their hearts.

Clark
Meeting Leo was a happy accident. Now I can't get him off my mind. Having feelings for a guy is new, and I'm in way over my head. My future's been decided since I was in diapers, and falling for a boy in college wasn't in my family's master plan.
But from our first curious kiss, everything about Leo feels right. Before I know it, I'm dying for our friendship to become something more before the semester ends.
Screw the plan. I'm not going the rest of my life without him.

Leo

So much for not crushing on a straight boy. Only Clark's not so straight, and it's way more than a crush.

It's easy to lose myself in his kiss and hard to forget the way he makes me feel. To the rest of Honeywood, Clark is the untouchable campus king of Royal U. To me, he's the boy who comes apart when we touch, the boy who wants me to put him back together, and the boy who stole my heart when I wasn't looking.

Clark is the muse who pulls poetry out of me.

Can he also be the boy who teaches me what it's like to fall in love?

Heartthrob is a new adult low angst gay romance. Visit Royal U and the small town of Honeywood for a dreamy, steamy slice of life MM romance featuring explosive first times, fierce friendships, and curious college boys thinking with their bodies.
NEW RELEASE, Kindle Unlimited
His Rejected Alpha Mate by Jax Stuart
Finally reunited with his son in his new pack, and free of his former mate, Jasper discovers his fated mate in the heart of the Sweetwater pack. Dakota is an unwelcome complication in an overloaded life.
Dakota wasn't looking for a fated mate. The loss of his love, Cooper, still lingered in his heart. The strange attraction he felt towards his best friend's papa made sense when he met the man. His true fated mate. Rejected instantly, Dakota brushes aside his hurt to make his case but Jasper stubbornly insists they can't be together, denying Dakota of the family he'd started to dream of having.
An unexpected pregnancy brings the pair together. Jasper has to learn to trust not only his life, but the life of his kids, to his new mate when an outside threat comes for the Sweetwater pack.
Proving his worth to his mate, and to himself, has never never been so vital to Dakota, especially with his children, and grandchildren's lives on the line.
His Rejected Alpha contains references to past abuse, an accidental pregnancy, (whoops), lots of babies and a strange threat to the Sweetwater pack. This book must be read as part of the series due to ongoing plot threads.
PREORDER, Releasing November 1st
NFL tight end Andrew McAdams isn't thrilled to be sidelined with an injury. He's even less thrilled about his legal troubles. Community service is the only thing standing between him and jail so…yeah. That's a no-brainer. It's not all bad news, though. He gets to work with Jesse Fox, who is as gorgeous as he is guarded. And there's no rule saying he can't do his hours and have a little fun. Right?
Wrong. Jesse may have to put up an athlete using his center as a "get out of jail free" card, but that's where he draws the line. And who cares if Andrew is unexpectedly sweet and thoughtful? The people in Jesse's life think he should get a life outside of charity work and find love. And maybe he will. But it won't be with a playboy NFL player wearing an ankle monitor as an accessory. Besides, anyone who dated someone like that would be thrust into the public eye. Jesse has worked hard to become someone else—someone better—and he's not about to dig up the past.
That's just not a game he's willing to play.
Too bad it's not in Andrew's nature to give up on something he wants. It may have started as simple attraction, but now it's much more than that. He doesn't just want Jesse for now…he wants Jesse for always.
And that's not a game he's willing to lose.
NEW RELEASE, Kindle Unlimited
The Saint and the First Time Sinner by Romeo Alexander
Gay natural caregiver meets arrogant first-time gay.
My job isn't easy but taking care of sick people in the comfort of their own homes is so worthwhile. I like to think I'm professional and know I'm good at what I do, regardless of the circumstances, the patient, or even their families. Maybe it's because I've known loss in my own life, or maybe I was just made for the job. Either way, I love what I do.
However, everything I thought I knew about myself is going to get sorely tested with this new assignment. The patient is a battle axe, and she's the type to take that as a compliment. If it were just her, there wouldn't be a problem. I've dealt with spirited, hardheaded, pain-in-the-ass patients before.
No, the problem is her son, Shane.
I don't know what it is about him. I know he's exactly my type, but he also has a way of getting under my skin, and worse, he likes getting under my skin. The funny thing is he's supposed to be straight, but the more I keep "running into" him, the more I'm beginning to question that. Which is dangerous because I find myself wanting him to get under my skin. All my personal rules and boundaries are getting tested, and all for some rich, spoiled brat with a gorgeous smile and something vulnerable in his bright eyes.
Basically, I'm in trouble.
***
How long can Kevin ignore Shane's attention? If he gives in, what will he have to give up? Find out in this first-time gay, opposites attract romance with plenty of witty banter, a bit of snark, and, of course, a HEA.
SALE – $1.99 (regular $3.99)
Daddy Bear ( MM Age-Gap Romance ) The Complete Series by BJ Smyth
A Young, insecure guy, a hot older Daddy, a manipulative ex-partner, and a toxic flatmate. Is it a recipe for disaster or true love?
Carter is Twenty-Two. All he has ever wanted is the Daddy he craves, someone to love and care for him. But will his immaturity be the downfall of a relationship, or can he find a Daddy who can deal with his tears and tantrums?
His regular morning swims keep him slim and fit. Then today, his mornings take an electrifying twist when he bumps into Frank at the pool.
Frank is Forty-Five. His life is complicated. He is still confused by his feelings for his Ex-Partner and dealing with his mum's deteriorating health. He has just moved to the area, trying to escape his old life. He is looking for a new start but not a new relationship. Then Carter catches his eye at the pool, stirring something deep inside him.
Can they learn to share life as complications enter their world?
Immaturity, Jealousy, Envy, Insecurity, can Carter and Frank survive them all?
PREORDER, November 15th Release
The Real Kaimana by Xenia Melzer
When a travel blogger with a serious love for color and a billionaire with the most gorgeous dark eyes serendipitously meet at a hotel in the Colorado mountains, could it be the start of a true holiday romance?
Quirin Brukmiller grumbles when he is told he must go into the snow and cold to write a travel report about The Retreat, aka The Rainbow Inn, an LGBTQ-friendly hotel high up in the mountains. After some gentle persuasion in the form of free clothing from his favorite company, he packs his bags and is now ready to brave the snow for the first time. At the hotel, he has the most perfect meet-cute ever to be written for a rom-com and chooses to make the best of this golden opportunity fate has given him.
Kaimana Tilo just sold his biotech company for several billion dollars and came out to his parents. Both decisions went down like lead balloons with his conservative, money-loving family. To get some distance, a clear head, and to have his first appearance as an out gay man, he takes a trip to a charming inn deep in the mountains of Colorado. Before he has a chance to check into his room, he meets the man of his dreams. For once, life is smiling down on him, and Kai has every intention of keeping the colorful man who practically landed in his lap at his side.
When an avalanche blocks the road to the hotel forcing them to stay together longer, it is just the last sign that what they have is bound to last forever.
NEW RELEASE, Kindle Unlimited
Catching His Name by Christie Gordon
Dana sees a challenge in Nate. Nate sees a safe place to call home in Dana.
Dana Summers likes his current life, even though he grew up in poverty after his mother died and his father became disabled. He's finally become the bakery manager at the local grocery store, and he's gotten over a relationship that nearly wrecked him a few years back with a man who gaslighted him until he wasn't even himself anymore. Hanging out with his friends at the local skatepark is just icing on the proverbial cake, one he's poured his heart and soul into.
Nate Walker should be living the dream after winning a small fortune in the lottery. But when his family and friends abuse the situation and scam him, he runs. While travelling the world to lick his wounds and find himself, he experiences a bi awakening in Thailand. He ends up in Mesa, Arizona with this newfound acceptance of himself, and eating a sandwich outside the bakery counter where Dana works.
Dana recognizes the hurt and loneliness in Nate right away and comes to Nate's rescue when the manager tries to kick him out for being a vagrant. He tempts Nate with the delicious treats he bakes and in the process, the two find a mutual attraction. But Nate's reluctant to disclose too much about himself, fearing the money could change everything, and Dana is wary of another man who might gaslight him. How can Nate find a way to trust Dana with his biggest secret and find a safe place to call home?
Catching His Name is a secret millionaire, hurt/comfort romance with an HEA and no cliffhangers. It features a kind-hearted skater with a motorcycle and a passion for baking, and a hot mess of a man who's in the process of reinventing himself. This is book four in the Mesa Boys series. Each book features a different couple and can be read as a standalone.
NEW AUDIOBOOK, Kindle Unlimited
Five Dead Herrings by E.J. Russell
Narrated by Greg Boudreaux
Something's definitely fishy about this case…
On my last stakeout for Quest Investigations, I nearly got clotheslined by a grove of angry dryads. I expected my bosses to reprimand me, but instead they handed me my first solo assignment. Me! Matt Steinitz, the only human on the Quest roster!
Okay, so the mission isn't exactly demanding. Obviously, the bosses wanted to give me something they think I can't screw up. I'm determined to show them what I can do, however, so I dive right in with no complaints.
At first glance, it looks as simple as baiting a hook: A selkie's almost-ex-husband is vandalizing his boat with unwanted deliveries of deceased sea life. All I have to do is document the scene, tell the ex to cease and desist, and present the bill for property damages. Boom. Mission accomplished, another Quest success, and as a bonus, I get to keep my job.
But then things get…complicated. Suspicious undercurrents muddy up my oh-so-easy case. Nothing is as clear as it should be. And the biggest complication? My inappropriate attraction to the client, who may not be as blameless as he claims.
Turns out those dead herrings aren't the only things that stink about this situation.
Dammit.
Five Dead Herrings is the first in the Quest Investigations M/M paranormal mystery series, a spinoff of E.J. Russell's Mythmatched paranormal rom-com story world. It contains no on-page sex or violence, and although there is a romantic subplot, it is not a romance.
Your information will never be shared or sold, and you can unsubscribe at any time. We are part of the Amazon affiliate program and may earn a small commission on qualifying purchases.